Exam Results 2018
KEY STAGE 4 RESULTS
| | |
| --- | --- |
| Progress 8 score | 0 |
| Attainment 8 score | 4.5 |
| Grade 5+ in English and Maths at end of KS4 | 43% |
| Entered for EBacc | 57% |
| EBacc Average Point Score | 4.1 |
| Staying in education or employment after KS4 | 100% |
In 2017, then Year 10 took GCSE English early. These figures are included in the league tables. In 2018, they re-took English. The figures above are for their best result, rather than their first result
Click here to view the performance table for Huxlow Science College
HUXLOW SCIENCE COLLEGE CELEBRATES EXCELLENT GCSE RESULTS
It was double celebrations all round at Huxlow Science College on Thursday 23 August 2018 as Year 11 students achieved some of the best GCSE results in its history. This is hot on the heels of impressive post-16 results last week (see below). 56% of students gained 5 GCSEs including English and Maths at Grade 4 and above (the equivalent to 5 A*-C). 43% of students gained the same at Grade 5 and above, which is a significant improvement on last year and likely to be well above the national average.
Headteacher Steve Gordon said: "We are extremely proud of our GCSE students and thrilled that these excellent results reflect the high level of dedication they have shown to their studies.
"Staff and students have risen to the challenges posed by the new numerical GCSE system which applies for the first time this year in most subjects. Their response to the requirements introduced by the new grading system has been outstanding. As a result, there has been a significant rise in the school's provisional Progress 8 score. Students have had bespoke revision programmes tailored to their needs to ensure they entered their exams feeling calm, confident and well prepared."
He added: "Here at Huxlow we focus on developing the whole child and as well as celebrating academic achievement. We are confident that all of our Year 11s are prepared to go on and do well in the adult world."
Huxlow's highest achieving student was Trinity Gough who gained 7 Grade 9's, a Grade 8 and a Distinction. She now looks forward to starting Sixth Form at Huxlow in September, studying Maths, Biology, English Literature and French to lead her into a career in Languages. 
Mark Curtis-Rose is also celebrating after gaining top marks across the board including the maximum Grade 9 in Biology, Chemistry, Physics and Computer Science, as well as Grade 8 in Maths and Grade A in Additional Maths.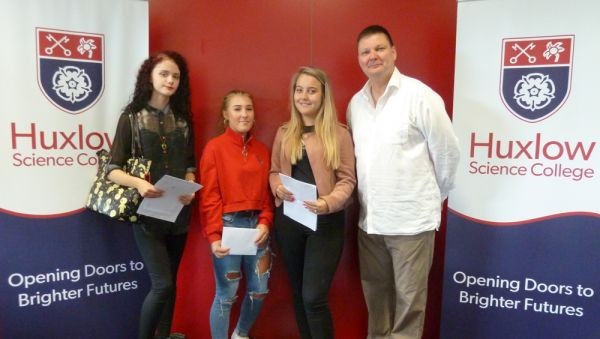 The Science subjects, Huxlow's specialism, continue to perform at an outstanding level; the percentage of students achieving Grade 4 (equivalent to C) or higher were 84% in Chemistry, 80% in Physics and 71% in Biology. In addition, the number of students achieving the maximum Grade 9 (higher than A*) were 9 in Chemistry, 10 in Physics and 6 in Biology.
The Irthlingborough secondary school has posted a particularly good set of results in Maths, English, French and Sport. An impressive 81% of students gained a Grade 4 (equivalent to C) or higher in French. Of particular note, students gained the top grade 9 (higher than A*) in English, Maths, History, French and Computing. BTEC results are excellent this year, with 10 students achieving Distinction or Distinction* in BTEC Sport.
A busy year at Huxlow Science College culminated in today's fantastic outcomes for Year 11. And it's set to get even busier in September as the school welcomes its largest Year 7 cohort to date and launches Dance as a new curriculum area with stunning, new, state-of-the-art performing arts facilities. Huxlow's Sixth Form is also looking forward to greeting record numbers of students, offering them the widest choice of courses in the county.
Click on the image below to enjoy our video from GCSE Results Day 2018, created by talented former Huxlow student, Haiden Day, currently studying Film and VFX at Birmingham City University. See more of his work at https://haidendayfilmsandv.wixsite.com/website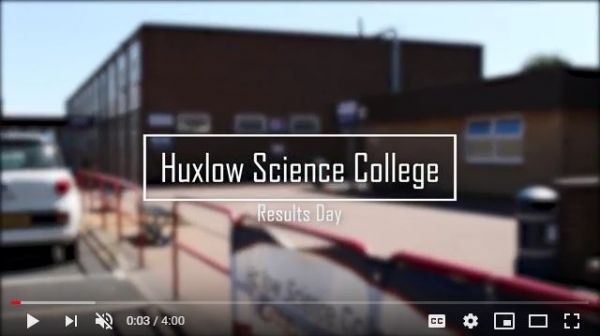 EXCELLENT POST-16 RESULTS AT HUXLOW SCIENCE COLLEGE
Click here to view the 16 to 18 performance tables page for Huxlow Science College
On Thursday 16 August 2018, students at Huxlow Science College celebrated some outstanding A level and BTEC results.
Year on year, Huxlow students achieve exceptional post-16 results in Science and Maths, and this year is no exception. William Parker achieved three A's in Physics, Chemistry and Maths and these outstanding results secure his place at Nottingham University to study Physics. Harley Hadingham also performed exceptionally well in the same subjects, gaining 2 A's and a B; he now looks forward to a career in Chemical Engineering with the Navy, where he will complete his degree. Darcy Tiernan was also delighted with her results in Maths, Chemistry and Biology, which have gained her a place to study Biological Sciences (Biochemistry) at Leicester University.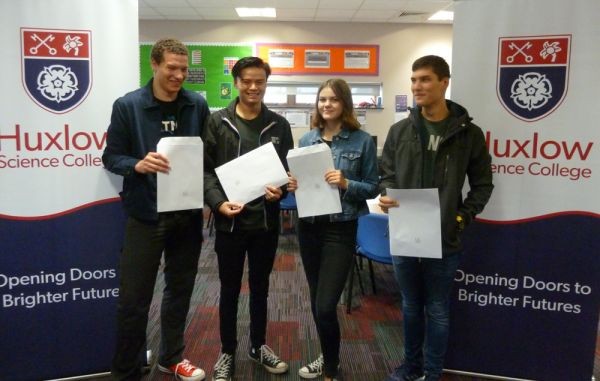 BTEC vocational students performed particularly well in Sport, Applied Science and Health & Social Care. 100% of students who studied Applied Sciences gained the equivalent to B or above. Emily Underwood achieved two Distinctions in Applied Science alongside A levels in Psychology and Sociology and an excellent A grade in the Extended Project Qualification, which assures her university entry to study Animal Management and Welfare. Ashleigh Massingham gained two Distinction* and a Distinction in Health & Social Care and is now looking forward to doing Education Studies at De Montfort University. Grace Forton's excellent BTEC results in Health & Social Care (Distinction* and two Distinctions) gained her a place at Reading University to read Language Sciences, after which she intends to pursue a career in Speech Therapy.
Headteacher Steve Gordon said: "These are excellent outcomes for our students who have studied A levels and BTECs. It is down to the hard work of both students and staff. We have offered high quality careers advice to ensure that all students have studied courses that are well tailored to their talents and aspirations. This has resulted in some prestigious university destinations for our students as well as sought-after apprenticeships, further education and employment prospects.
"We have left no stone unturned in terms of teaching and learning and we are really proud of our students and the incredible commitment they have shown to their studies. Congratulations to the individuals who have achieved exceptional results which will secure their first choice of university."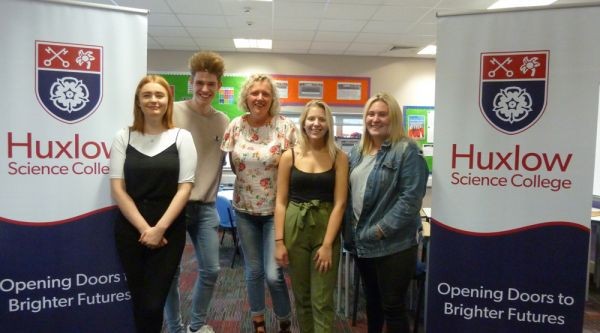 This year, the secondary school welcomed its largest sixth form to date, with the new Sixth Form Centre offering Year 12 and 13 students a dedicated area to pursue their studies and enjoy a thriving community hub. Numbers are due to rise again in September 2018, with more students each year choosing Huxlow for their post-16 studies.
Huxlow Science College, The Ferrers School and Rushden Academy work together to create a unique post-16 learning community, The East Northamptonshire College (TENC), combining the strengths of the three schools. With a long and excellent tradition of success, TENC offer students from across East Northamptonshire the widest range of courses in the county.
Thriving Through Excellence