Student Attendance
WORKING IN PARTNERSHIP
Huxlow Academy work in partnership with the cluster schools to ensure a uniform approach to school attendance procedures. These are the standard procedures for absence across the schools. However, if a school has serious concerns it may escalate the actions accordingly.
We seek to work in partnership with parents to ensure that each child's experience is one that will enable them to make good progress by building on their skills and talents within a continuous and consistent learning environment. If together we are to achieve this aim, regular attendance at school is vital and full parental support and co-operation in this matter is necessary.
 
WHY IS IT IMPORTANT FOR CHILDREN NOT TO MISS SCHOOL?
Children only get one chance at school. If they do not attend school regularly they may not be able to keep up with their school work or could miss whole sections of the curriculum. Setting good attendance patterns from an early age will also help children later on in life.
Pupils whose attendance is good:
Understand lessons better

Achieve better results

Sustain friendships

Have good self-esteem, are positive and confident

Get better jobs in the future


Pupils whose attendance is unsatisfactory:
Don't understand lessons so well

Get behind with their work

Find it difficult to maintain friendship groups

Have low self-esteem and confidence

Achieve less

 
WHAT DOES GOOD ATTENDANCE MEAN?
100% attendance – when a pupil arrives on time and attends every lesson every day

At our school we expect all pupils to achieve 96% or above


WHAT DOES UNSATISFACTORY ATTENDANCE MEAN?
Less than 96% attendance. This will have a serious effect on learning

One half day's absence every week will give 90% attendance – this is poor

Continual lateness

Research suggests that days missed from school often equates to one level lower in academic attainment


Children are expected to be in school for registration time. Any child arriving after this time, should enter the school via Reception and if accompanied, should give a reason for the lateness. This will be recorded in the register as present but late. Any child arriving 30 minutes after registration will be recorded as absent for that session, unless the office has been notified otherwise. Pupils who are consistently late are disrupting not only their own education but also that of others. The Headteacher monitors the pupil's attendance regularly.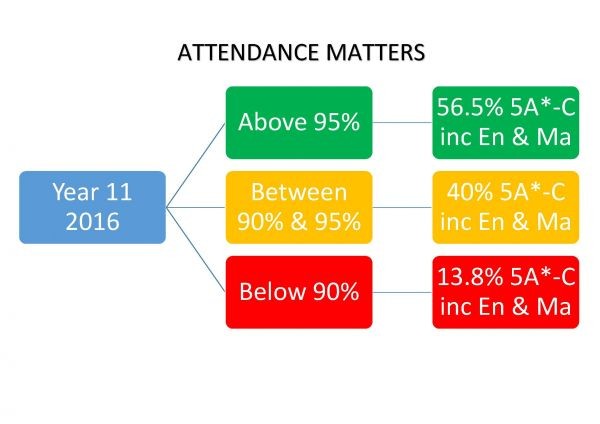 WHAT HAPPENS IF MY CHILD IS LATE?
Letters will be sent out to parents whose children are persistently late and a meeting will be arranged if the situation does not improve. Ultimately families could be referred to the Education Inclusion and Partnership Team.


WHAT HAPPENS IF MY CHILD IS ABSENT?
If a child is unavoidably unable to attend school, parents / carers should telephone the school as soon as possible, and no later than 9:30am on the morning of the first day of absence. The reason for absence will be recorded and the electronic attendance record will be marked with the appropriate code. If no phone call is received by then, contact will be made to parents / carers by telephone or text message to find out why the child is not in school and a record will be kept that this phone call has been made. If the parent / carer's telephone numbers are unavailable, a letter will be sent to the home address.
If on the second day of absence no contact has been possible and the child is still absent, the school will phone the parents / carers again.
If on the third day contact has still not been made, a letter will be sent by the school giving parents / carers 3 working days to make contact.
If no response is forthcoming, a representative from the school will visit the home address (ensuring that a risk assessment has been carried out first).
If by the second week the child has not been seen and parents / carers have not made contact either, the school will contact the Education Inclusion and Partnership Team to alert them that they have a child missing from school.


WHAT HAPPENS IF MY CHILD IS PERSISTENTLY LATE OR ABSENT FROM SCHOOL?
The Government's persistent absence threshold is 10%. This means that a pupil who is absent for 56 sessions (28 days) of school is classified as persistently absent.
Where there is cause for concern letters will be sent to the parents/carers of the child to alert them to the concern. A representative from the school may contact the parents/carers to offer support or invite them to an attendance meeting. If attendance does not improve, an appointment for the parents/carers to meet the Headteacher will be sent. At this meeting a Parenting Contract will be completed and a target set for improved attendance. Where the school procedures do not bring about sufficient improvement in attendance, a referral will be made to the Education Inclusion and Partnership Team. This may result in an interview under caution, a court appearance and a fine.


SCHOOL ATTENDANCE REGULATIONS
School attendance regulations changed from 1st September 2013 under Education (Pupil Registration) (England) (Amendment) Regulations 2013 which amends the 2006 regulations.
Headteachers will no longer be able to sanction any holidays and extended leave in term time. ALL holidays in term time will be treated as unauthorised absence and will be taken into account when referring parents and families to the Education Inclusion and Partnership Team.
The regulations allow Headteachers to sanction absence in "exceptional circumstances". Please find below a list of allowable absences and those which will now be classed as unauthorised absences. The list is not exhaustive.


ALLOWED ABSENCE
Sickness

Emergency medical appointments

Day/s for specific religious observance

School is closed due to unforeseen circumstances
The following list shows allowed absence in exceptional circumstances (these may be authorised at the discretion of the Headteacher):
Bereavement

Compassionate grounds

Family wedding

Examinations off site

Attendance at an event at the request of a public organisation


ABSENCES NOT ALLOWED UNDER ANY CIRCUMSTANCES
Planned medical check-ups – dental checks, eye appointments, etc.

Family holidays, no matter what length

Days out


All requests for absence due to exceptional circumstances must be placed in writing prior to the event. The Headteacher will then review each request and decide if it meets the criteria. Parents will then be informed of the outcome by letter. 
We believe that the majority of our parents realise that 'every lesson counts' and encourage regular attendance at school. We have high expectations of our children. You have high expectations of us. These expectations cannot be met if your child is absent.
Thriving Through Excellence