Admissions Process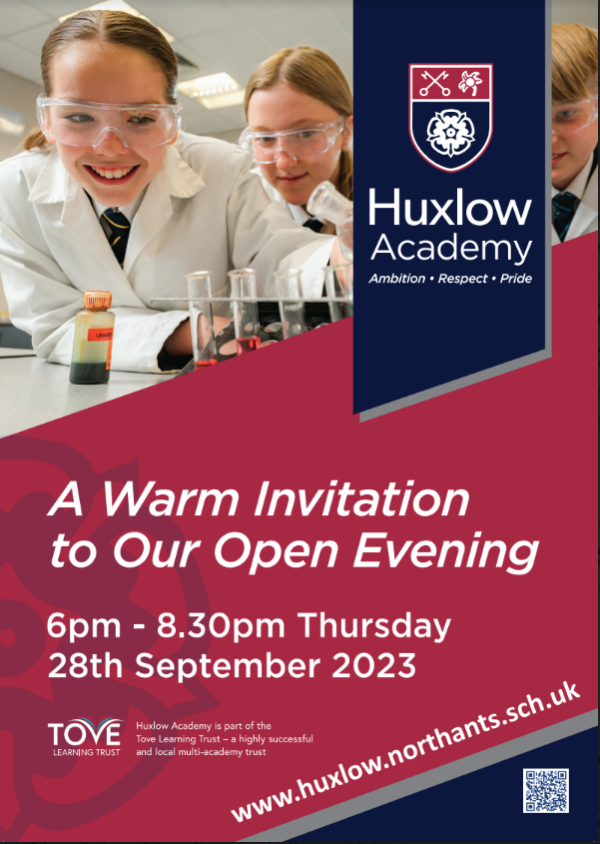 If you would like any further information, please do not hesitate to contact us on 01933 650496.
Secondary Co-ordinated admissions scheme for 2023-24
Virtual Open Evening Experience
2024 to 2025 Admissions Consultation 
Letter re Admissions Consultation 2024 to 2025
Admissions Policy 2024 to 2025 (Under Consultation)
TOP REASONS WHY YOU SHOULD SEND YOUR CHILD TO HUXLOW:
We believe that if students are happy at school they will thrive.​

We are part of the All Together Programme which is led by the Anti Bullying Alliance. We are proud to have been awarded Gold status as recognition of the measures we have in place to prevent and stop bullying.​

Of all the schools in our area it is Huxlow students who consistently make the most progress. As a result we are becoming more and more popular, offering increased student places year on year.​

At least 70% of students passing every GCSE subject is now the norm at Huxlow Academy.​

We have fantastic new Dance and Drama facilities.​

2020 saw record numbers of students going to university with the vast majority going to their first choice, including two to study at Cambridge.​

We offer a huge variety of trips such as the Battlefields trip to Northern France, Jinja International Youth Conference in Uganda, the National Museum of Computing, Matilda at the Cambridge Theatre in London and Disneyland Paris.​

Our Sports Teams are hugely successful. In 2019-20, Huxlow were:​

Girls Football – Year 9 & 10 District Runners Up​

Rowing – U13 & U15 Boys District Champions​

Cross Country – x17 District qualifiers​

Volleyball – Yr 10 Girls District Runners Up​

Dodgeball – Yr8 Boys District Champions​

Awarded The School Games Gold Mark for the second year in a row.​
Thriving Through Excellence