Headteacher's Welcome
Welcome to Huxlow academy
At Huxlow Academy we believe that school days are precious and form the foundations for our students' future lives.

We have a determination to ensure that our students are given the best possible opportunities to succeed both academically and as young people who are an asset to the communities in which they live. Our community is proud of our school, our students and their successes. We have a rich history of students of all abilities and backgrounds fulfilling their potential in all areas of their education. They are supported and challenged daily to gain the skills, confidence and qualifications they will need to be successful in an ever-changing world. 
We pride ourselves on the levels of support and guidance we offer our students. Our students are challenged to aim for the highest personal and academic standards. You can rest assured that your child will be attending a school where we expect excellent attendance, punctuality and attitudes to learning and behaviour.
Pride is at the heart of our values as a school.  I am hugely proud and honoured to lead this school as we build on recent developments, growth in student numbers and exam results. It is such a privilege to be entrusted with the lives of young people in our community, to shape their characters and enable their success. I am passionate about ensuring that staff and students work together every day to meet our vision and display our core values of ambition, respect and pride. 
We look forward to welcoming all prospective students, parents and carers to experience all that is Huxlow in the very near future.
PAUL LETCH - HEADTEACHER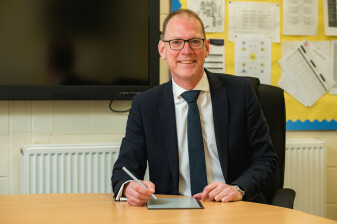 Thriving Through Excellence