Careers
CAREERS AT HUXLOW academy IS AN INTEGRAL PART OF school LIFE FROM WHERE STUDENTS BEGIN TO EXPLORE THEIR TALENTS IN KS3 AND REALISE THEIR FUTURES IN KS4 AND 5.
The careers programme is mapped against the Gatsby benchmarks and leadership is CDI L6 qualified. SEND students follow the same opportunities as their peers with adjustments as necessary, they are supported through the use of advocacies, visits and as many follow up interviews as is needed. We pride ourselves in our 100% positive destinations achievement. Our post-18 destinations include successful medicine candidates and places at the very best universities including two students taking up offers from the prestigious world class Cambridge this summer.

Year 7 focus on exploration of ideas and potentials, the focus is on smashing stereotypes, having ambitious ideas, working on their dream careers, and working through on self-improvement as a learner. They begin to consider their key competences by accessing Unifrog and beginning their career journey. Unifrog is a key tool for all year groups and is integral in ensuring students are targeted on their journey through interests and personality quizzes which help to guide them on their evolving journey. 
Year 8 is an extremely important year as students make their GCSE option choices, to support their discovery we invite the year group to our careers fair. They identify their interests and begin to consider pathways to support their choices by building on their key competencies. We offer an opportunity to take part in group interviews where students can express their skills and interests as well as having an experience of the workplace through – Take Your Child to Work Day (COVID allowing).
Year 9 review their explorations and discoveries and begin to realise their dreams and aspirations. The subject's library treasure hunt on Unifrog supports their expansion of ideas and pathway options. The year also, sees students working on their leadership and team-work skills. All skills and experiences are turned into key competencies in preparation for the real world of work. Students experience through talks and focus weeks different areas of Labour Market Information (LMI) including working in the NHS, law and accounting. MOOCs are introduced as a key area of developing the more able and curious.  At KS4 students continue to research into careers and pathways into the sixth form and higher education. They develop skills in CV, letter writing, presentations and interviews, these are tracked and supported through Unifrog. This includes assemblies with key employers and apprenticeships as well as local colleges as well as A-level and BTEC options in a dedicated sixth form afternoon fair. A sixth form options evening for parents and Students is held at one of our three TENC consortium schools.
Year 10 students continue to update their competencies and interactions on Unifrog to add to their individual targeted programmes. They continue to build on their interests and choices by identifying pathways and opportunities, they consider the debate regarding university and apprenticeships. Learning leaders will continue to inspire students to continue studying their subject area.
Year 11 continues a full timetable of careers activities and key dates takes place. Including individual interviews with the team and an independent careers practitioner, who also provides guidance on careers and future pathways. There is a full induction programme including transition tasks for students moving into KS5. Resilience is a key competency and is worked on through revision and practice and by constantly reflecting on each area of strength and weakness via UNIFROG interactions and competencies.
As students move into KS5, there are many opportunities for students to attend open days and talks on pathways and careers options. The Assembly rota focuses on key skills, life skills, finance – including student finance, application processes including UCAS and interview skills. As part of our 'Futures Week' various speakers present at our conference regarding life choices, skills and opportunities. Parents are invited to a further education evening to gain knowledge of the opportunities and the process of application. dents.
In addition, Year 12 & Year 13 have the opportunity to complete a week of work experience. Throughout KS5 students are involved in voluntary community and charity work. 
Impact: Monitoring, Recording and Evaluation
Built into the careers programme are opportunities for students to self-evaluate and reflect on their learning at key points, such as mock interviews. Students develop a profile on Unifrog – which remains with them as an alumni when they leave us. Students work on the 12 key employer competencies throughout their time at school and are able to use these to support any form of application. These are monitored by tutors and key staff, tags are added depending on interests which means we can target key students for example potential medics. We ultimately measure our programme through our ambitious destinations.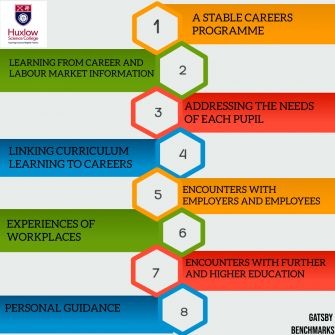 CAREERS PROGRAMME 2020/2021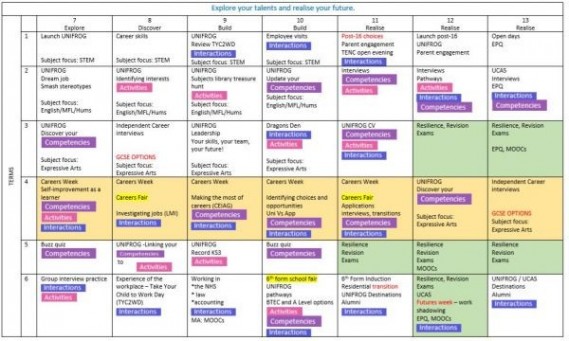 ACCESS AGREEMENT
PIXL
Parent Guide to helping you and your child make the right choices at 14, 16 and 18
When it comes to careers education, information, advice and guidance, we need to ensure that, our parents and carers, encourage our young people to access relevant and impartial information so that they can make informed choices with our guidance. The Pixl Futures document helps you find your way around the different pathways open to our young people. Click through and follow the links to the KS areas.
NATIONAL CAREERS WEEK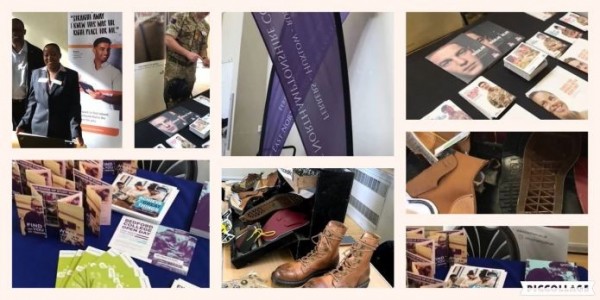 National Careers Week 2021 - Local Support
Parents Guide to Careers - NCW 2021
CAREERMAP - CAREER MAGAZINE
LABOUR MARKET INFORMATION
South East Midlands Labour Market Information
APPRENTICESHIP SUPPORT AND KNOWLEDGE
The Apprenticeship Support and Knowledge for Schools and Colleges Programme has resources for all years, including Sixth Form.
ASK - Free Apprenticeship Support and Knowledge
CIAG POLICY
CAREERS WEBSITES

https://icould.com/buzz-embed/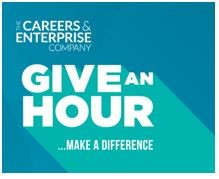 Could you help us help you? https://www.careersandenterprise.co.uk/give-an-hour
Could you give an hour?  We'd like to invite you to give an hour and make a difference to the future career choices that a young person makes.  Our aim is to ensure that our young people leave us with a complete passport of skills, knowledge, attitude and qualifications required by employers.
You could help our students meet Gatsby Benchmark 5: Encounters with employers and employees and 6: Experiences of workplaces.  Could you help shape the next generation of employees?  Your real life encounters could help our students prepare for the world of work in the following ways:
Employer talks and assemblies
CV preparation and mock interviews
Site visits
Work shadowing
Please contact Mrs Jacqueline Holmes if you are able to support us at Huxlow with employer engagement. j.holmes@huxlow.northants.sch.uk
OUR PARTNERS:
South East Midlands Local Enterprise Partnership (SEMLEP)
Supporting school and college staff to embed employer-led core skills competencies into the curriculum, and promote and showcase activity that inspires young people into careers in high growth sectors.
https://www.semlep.com/about-semlep/
UNIFROG - not just for University!

Used by Y12 and Y13 for about 18 months, this has now been introduced to Y7-11.  It forms a one stop shop for all careers related learning, supports our LORIC focus to help build the whole child.  Students can explore how interests lead to different education and training pathways.  See what steps need to be ticked off to stand the best chance of application success.  Study experts guides explaining how to navigate each step in the application process.  Use MOOC's to try out different subject areas.
The 12 key competencies we focus on with UNIFROG
There are numerous skills which are important for future careers. When a skill is needed for different situations, such as communication, it is a transferable skill; it can be transferred to different careers and circumstances. The 12 key skills build throughout a student's school career, a profile of evidence is built up.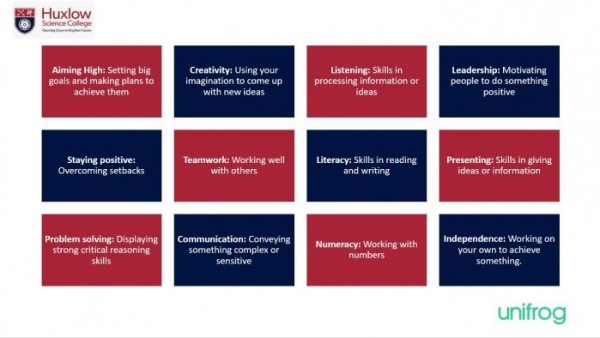 UCAS

The UCAS website is full of information for students who are considering university as their next steps - from their initial registration, through to university and course choices and advice on writing their personal statement
The National Citizen Service (NCS)

The National Citizen Service (NCS) is a voluntary personal and social development programme for 16-17 year olds in England and Northern Ireland, funded largely by money from the UK Government.  The scheme takes place in the summer or autumn (coinciding with the school holidays) and usually consists of :
Phase 1 ('Adventure'): Five days at an outdoor activity centre
Phase 2 ('Discovery'): Work experience and mentoring
Phase 3 ('Social Action'): Run a local social action project
Phase 4 ('Celebration'): A special 'graduation' event
Volunteers usually pay £50 each to take part in the scheme, but there are bursaries for those from low-income households.
University of Northampton (UoN)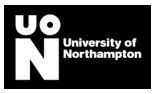 We work closely with UoN to access a comprehensive suite of activities that support and inspire our young people.  The programme informs learners of all ages about the range of opportunities and pathways open when considering higher education.  The university supports us with all stages of UCAS and engages with students right down to Y8.
https://www.northampton.ac.uk/more/schools-and-colleges/
University of Cambridge


Our linked College is Pembroke, we take a group of high flying Y11s every year to experience a day at one of the world's most prestigious Universities.  This is followed up with the CUSU Shadowing Scheme which brings UK students from state schools without a tradition of top university entry to Cambridge for three days.  Prospective students come to Cambridge and spend time with a current undergraduate, studying a subject that they are interested in, who they 'shadow'.
https://www.applytocambridge.com/shadowing/apply/
National Careers Service

Provides information, advice and guidance to help make decisions on learning, training and work.  Use the careers tools to help with choices on careers, training and work.  Whatever your situation, there's something to help.
https://nationalcareers.service.gov.uk/
The Apprenticeship Support and Knowledge for Schools and Colleges programme (ASK)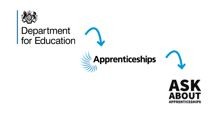 This programme is funded by the National Apprenticeship Service, part of the Department for Education.  The programme is designed to give schools, colleges and other educational establishments across England free support to develop and transform how your students think about apprenticeships.
https://amazingapprenticeships.com/about-ask/
Enterprise Centre, East Northants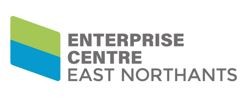 We have established links with the Enterprise Centre, East Northants which have included a construction site visit and an assembly to targeted young people.  The site will offer start-up and growing businesses first rate flexible workspace and business support when the new £8 million state-of-the-art facility opens at Warth Park, Raunds in Spring 2020.  It is ENC's ambition to increase and improve the skills base across the district and by providing a space which will create up to 785 jobs in the first 10 years.
Construction work started on 24 June 2019 and is being carried out by industry specialists, ASHE Construction.

CAREERS INFORMATION AROUND THE COLLEGE
Careers Lead - Ms zoe correa
Email -  z.correa@huxlow.northants.sch.uk
Tel - 01933 650496 Ext 1213
Our careers information is measured through year group evaluations and monitoring of teaching support. Website information is reviewed each term.
Thriving Through Excellence