Exam Results 2020
KEY STAGE 4 RESULTS
| | |
| --- | --- |
| Progress 8 Score | 0.33 |
| Entering EBacc | 46.5% |
| Staying in education or entering employment | 100% |
| Grade 5 or above in English and Maths GCSE | 44.5% |
| Attainment 8 Score | 4.8 |
| EBacc average point score | 4.34 |
A LEVEL RESULTS
Excellent post-16 results at Huxlow Science College
Students at Huxlow Science College in Irthlingborough are today (August 13th) celebrating some outstanding A Level and BTEC results.
Year on year, Huxlow students achieve exceptional post-16 results in Science and other curriculum areas, and this year is no exception, with the high grades across the curriculum. BTEC vocational students performed particularly well in Sport and Applied Science. 96% of students who applied to University have accepted a place at one of their first choices.
Fantastic results in BTEC including Triple Distinction stars have paved the way to courses such as Health and Nutrition and Nursing. Excellent A level results have enabled students to go and study Natural Sciences and English at Cambridge; Medicine at Keele; Law with French Law at Warwick; Law at UCL and Computational Physics at Edinburgh along with other competitive universities such as Nottingham, Cardiff, Loughborough, Leicester and Birmingham. Hard work has also resulted in students gaining places on exciting courses such as cyber security, criminology, digital film production and a highly sought after place at the Northern School of Contemporary Dance. Aside from university places we also have students securing prestigious higher-level apprenticeships including accounting with Grant Thornton and Dental nursing.
In light of the unprecedented situation this year, students and staff have been resilient and relentless in terms of their commitment to their studies. Head teacher, Steve Gordon said: "These are excellent outcomes for our students who have studied towards their A Levels and BTECs for two years. It is down to the hard work of both students and staff. We have offered high quality careers advice to ensure that all students have studied courses that are well tailored to their talents and aspirations. This has resulted in record numbers gaining entry to prestigious Russell Group universities as well as sought-after apprenticeships, further education and employment prospects.
Huxlow Science College is part of the longstanding and highly successful East Northamptonshire College. The three schools of Ferrers, Huxlow and Rushden work in partnership and post 16 students are taught by teachers across the three sites.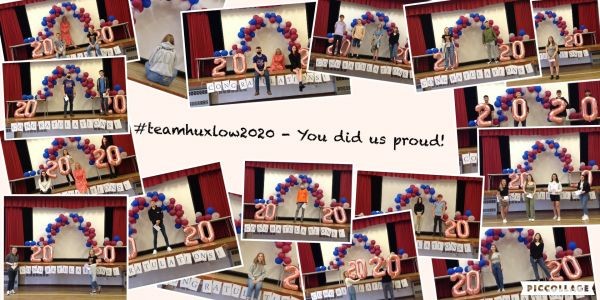 GCSE RESULTS 2020
Huxlow Science College congratulates their students on receiving the results they deserve.
Headteacher, Steve Gordon said: "We would like to congratulate our students on receiving the results that they deserve in this very difficult time. It has been an unprecedented year for receiving results of their three year GCSE course, and a culmination of their school education. We are pleased that finally, the outcome is as it should be for our students. We are extremely proud of our GCSE students and pleased that the outcomes reflect the high level of dedication they have shown to their studies. Staff and students have risen to the challenge this year with outstanding commitment and resilience."
He added: "Here at Huxlow, we focus on developing the whole child as well as celebrating academic achievement. We are confident that all of our students are prepared to go on and do well in the adult world."
We are looking forward to supporting students through their next phase of education here at our sixth form and on the next part of their journey.
Thriving Through Excellence