Reporting
current Reporting for 2022-23 (under review)
Students receive 3 reports throughout the year, along with a report explanation sheet for each year group (report explanations can be found below).
The following table indicates when reports are available via Go4School. These reports will be mainly accessible electronically.
However, as seen below, paper reports will be available at some key dates to support discussions with tutors or subject lead.
 
Term 1
Term 2
Term3
Term 4
Term 5
Term 6
Year 7
Effort/Behaviour/Homework available at Parents Evening

 

RATE 1 available on Go4Schools

 
RATE 2 available on Go4School
 

 

RATE 3+ tutor report available on Go4Schools

Year 8
 
RATE 2 available at Options Evening
Year 9

 

RATE 2 available on Go4School

Year 10
Year 11
RATE 1 available at Year 11 Parents Evening
Last predictions available
 
RATE data is based on assessments conducted in lessons.
REPORT EXPLANATION
Please see below an example of what a report will look like:
Academic reporting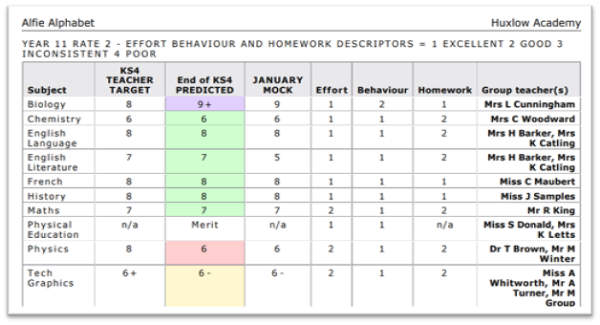 Effort, Behaviour and Homework are graded from 1 (being excellent) to 4 being poor. Please see below the descriptors to understand what they each mean.
Effort is used to show a student's attitude to a subject and covers issues such as punctuality to lessons, being well prepared and working in a focused way.
Behaviour is used to indicate how a student behaves in lessons in terms of following the school's routines, expectations as well as the school's ethos.
Homework indicates whether homework is completed to a high standard and/or handed in on time.
Predicted
This is how a student is likely to perform with consistent effort, hard work and dedication. It should be noted however, that the predicted grade is based on various factors including controlled assessment (where appropriate), effort, quality, teacher assessment and more.
The new 9-1 GCSE grading system:
Due to government changes, new GCSEs have been introduced with all subjects now reformed, having received their first 1-9 grade outcomes in 2018.
The new GCSEs have a grading system of 9-1 with grade 9 representing the highest level of attainment and 1 the lowest.
The following points and accompanying diagram helps to explain this new approach:
Broadly the same proportion of students will achieve a grade 4 and above as previously achieved a grade C and above
Broadly the same proportion of students will achieve a grade 7 and above as previously achieved an A and above
For each examination, the top 20% of those who get grade 7 or above will get a grade 9 – the very highest performers
The bottom of grade 1 will be aligned with the bottom of grade G

The vocational grading system:
Vocational subjects are awarded at level 1 or level 2 and graded as pass, merit, distinction or distinction*. The following table represents the relation between these vocational and legacy GCSE A*-U grades:
Vocational Grading Structure
L2D*
L2D
L2M
L2P
L1D
L1M
L1P
A*
A
B
C
D
E
F/G
Attendance Reporting

Good attendance at school is not just valuable, it's essential. Going to school is directly linked to improved exam performance which should in turn lead to further learning opportunities and better job prospects. As well as this, going to school helps to develop: friendships.
GO 4 schools
Using GO 4 Schools, both Parents and Students will be able to view progress online and access the following information at any time:
¨ Real-time attainment information – marks and target grades for all subjects throughout the year.
¨ Homework – Homework tasks due in the next 7 days
¨ Attendance – Shown from the start of the academic year
¨ Timetable – Your child's daily and weekly timetable
¨ Progress Reports – Full written reports which are published once a year, Assessment data 4 times a year.
¨ Behaviour information
Student pages are constantly updated, providing you all with the latest information.
To access the site, please go to www.go4schools.com and click on the Student or Student icon at the top of the main page to arrive at the log-in screen. The email  address you use to enter the site must be the one we have registered at school which is
Last 4 digits of your admission number xxxx.
Year you would have started in Year 7 eg 15 for 2015
@huxlow.northants.sch.uk
 Example   9999.15@huxlow.northants.sch.uk
To request a password for GO 4 Schools, please enter your email address into the First-time User field and click 'Please send me a password'. A randomised password will then be generated and sent to your email address. You will then be able to log into the site and view your child's page. 
Thriving Through Excellence